Here's the Best Starting Point into the A3 Thinking Journey… Period.
This hands-on and highly participative workshop aims at developing people's ability to frame, analyze and solve problems using the Lean A3 Thinking management approach originated from Toyota and adopted by Lean organisations around the world.
The approach directs people's behaviour towards gaining and sharing insights, guiding and capturing the story of a problem, raise visibility within their organisations, and setting standards as baselines for continuous improvement.
Objectives
Introduce A3 Thinking as a core Lean management philosophy.
Improve people's ability to systematically frame, analyze and solve problems.
Develop people's ability to negotiate change and reach wider consensus, even outside their immediate circle of influence.
Kick-start wider A3 adoption within your organization.
Who is this for
The course is designed for managers, teams, change agents, entrepreneurs and anyone else who'd like to systematically move from where they are to where they need to be.Participants are encouraged to bring questions and issues from their business and situations.
Duration and terms
The course is typically offered as 1-day training seminar for max. 25 people. The program is highly interactive and learner-centered for maximum motivation and retention.
Material
Slides, handouts and flip charts are used throughout the workshop to share stories, rapidly build the foundation and kickstart practical group activities.
In addition, each participant will receive and use: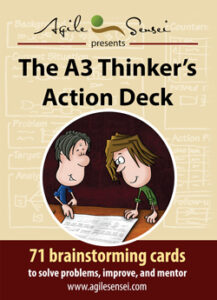 The A3 Thinker's Action Deck consists of an original set of 72 brainstorming cards with hundreds of questions to guide problem solvers on each step of the improvement sequence and engage teams and co-workers in efficient problem-solving conversations.
This tool has been developed by Claudio Perrone with the explicit intention to support problem-solvers well after training, when people face their most critical challenges and support is needed most.
Methodology
The workshop includes scenarios, games and group activities to actively involve participants and allow them to practice in a safe and fun environment.
Learners will engage in learning/refining the A3 methodology through highly participative activities.
The workshop follows the 4C instructional design model, which is based on sequences of:
Connections
Activities that connect learners to what they know already about the topic, to each other, and to what they want and need to learn.
Concrete Practice
Leaners actively review content and practice skills.
Concepts
Lectures or "direct instruction" training segments.
Conclusions
Learner-­led summaries, evaluations, and celebration activities.
What you'll learn
In the end, participants will gain the mental models and tools to:
Understand Lean Management, Kaizen and A3 Thinking as a System ("Why/What")
Breakdown and state their own problems clearly and unambiguously ("How")
Define targets, analyze root causes, select countermeasures and follow-ups ("How")
Identify common out-of-sequence patterns ("How")
Introduce A3 thinking to their teams/organizations("When/Where/How to")
About the trainer
The content of the workshop is based on the extensive work Claudio conducted with clients around Europe in the context of Lean & Agile transitions. These include fast-growing startups as well as established enterprises.
Claudio also presented on the subject of A3 thinking at various international conferences.
His "A3 Thinking and Kaizen" presentation was awarded "Best overall session of the conference" (in addition to "Best session in the Organization transformation" track) at Lean Lean Enterprise Software & Systems conference 2011 (Sweden).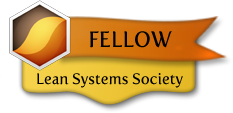 In June 2013, Claudio was selected to become a Fellow of the Lean Systems Society, mainly thanks to his contribution to "revitalize and clarify the role of A3 Thinking as  one of the most powerful points of contact between Lean, Systems Thinking, and the Scientific Method." The LSS further added that "Claudio made A3 Thinking accessible to the point that it is a major force again for systems work."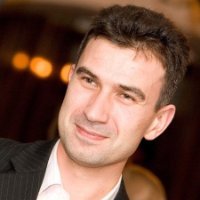 Interactive, engaging, fun. The best starting point into the A3 Thinking journey.
— Alek Kozlov, Agile Coach at Skype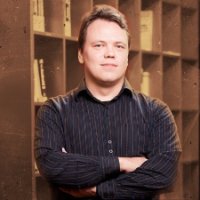 Awesome! It was a very well organised, fun and insightful workshop. I would recommend it to any manager or knowledge worker.
— Stanislav Vasilyev, Developer, Coach at Ignite OÜ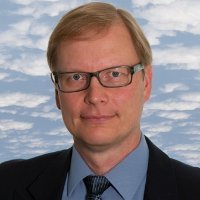 The workshop was fun, collaborative and actionable. It had good examples and fun games. I gained valuable insights about Socratic questioning.
— Janne Järvinen, Director, F-Secure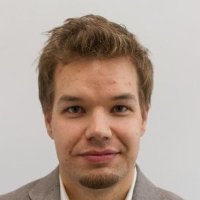 The workshop was very interactive, enabled team work and critical thinking.
— Anssi Huusko, Key Account Manager at Houston Inc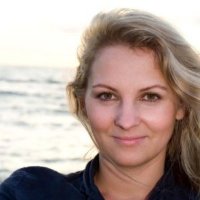 Practical with good examples. I will definitely use the A3 thinking methodology and I'll suggest this course to my colleagues.
— Kristel Sepp, Development Manager at Elion Enterprises Ltd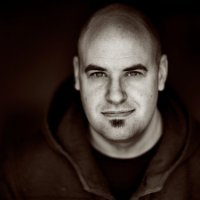 The A3 thinker's workshop uses a mix of past experiences, ideas and great graphics to tell you a story that shows you the different aspects of A3 thinking and Lean in general.
Then add to that the small experiments and exercises that Claudio has prepared and you get a very engaging, informative and, most important of all, fun learning experience. In one word: awesome!
— Mark Nijhof, Agile Coach / Software Craftsman at Cre8iveThought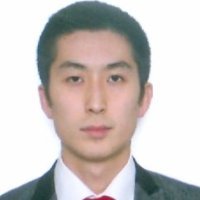 It was interactive and fun! Best insights for me? Do proper analysis before jumping to conclusions and focus on process, not (just) its outcome.
— Vladimir Li, Sr. Business Process Manager at Kaspersky Lab